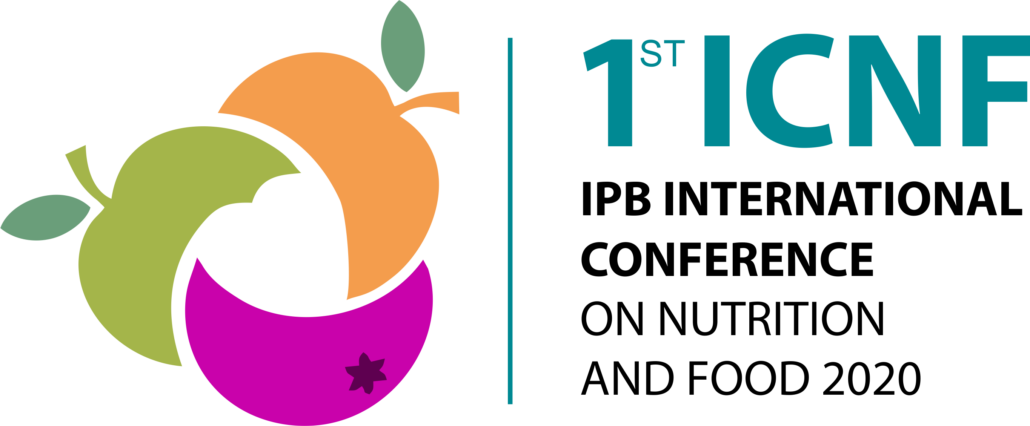 1st ICNF 2020
Welcome Speech
About
Important Dates
Registration & Publication
Presenter Guidelines and Conference Schedule
Contact
Essay Competition
Links & Downloads
1st ICNF 2020
1st IPB International Conference on Nutrition And Food 2020
THEMES
Nutrition and Food Innovation for Better Life
INVITED SPEAKERS
Prof. Dr. Hardinsyah (Indonesia, IPB University; President of FANS)

Prof. Dr. Visith Chavasit (Thailand, Mahidol Univeristy)

Prof. Nobuko Murayama, PhD (Japan, University of Niigata Prefecture)

Assoc. Prof. Dr. Jayashree Arcot (The University of New South Wales, Australia)

Prof. Dr. Amin Ismail (Malaysia, Universiti Putra Malaysia)
TOPICS
Clinical Nutrition –> Nutrition & non-communicable diseases

Community Nutrition –> Diet, lifestyle & non-communicable diseases; Nutrition education & behavior change; Food & nutrition security

Food Innovation –> Functional food; Food for special medical purposes; Food for special dietary uses; Indigenous food; Food for emergency relief.
VENUE
The conference will be held at IICC (IPB International Convention Center), located in the heart of the Bogor City. IPB Convention Hotel is adjacent to the Botani Square Mall, the Baranangsiang bus station and the historical Bogor Botanical Garden, with various culinary spots within walking distance from the venue.  It is approximately 2 hours away from Soekarno-Hatta International Airport that can easily be reached by taking airport taxis or DAMRI buses. Besides that, there are plenty of hotels with various rates near IICC that can be an option during the stay of all the national and international participants.
Google Map: IICC IPB Bogor
Welcome Speech
About
Important Dates
Registration & Publication
Presenter Guidelines and Conference Schedule
Contact
Essay Competition
Links & Downloads